by Pepper Marcelo, Planet Philippines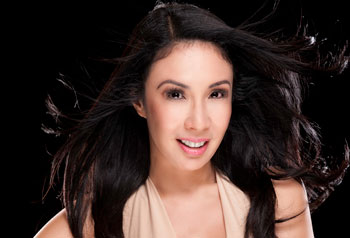 Giselle Sanchez is prominently known for her naughty, scandalous humor, and even more so for her unabashedly sexy image. What may come as a surprise to many …
Giselle Sanchez is prominently known for her naughty, scandalous humor, and even more so for her unabashedly sexy image. What may come as a surprise to many is the other side of her multi-faceted personality; of a strong-willed woman with an articulate manner and fierce intelligence, accompanied by a staunchly rigid religious conviction. While she herself admits that she's not a much-sought-after starlet or actress, she is quite satisfied with her position as one of the most in-demand hostess-comediennes, not just in this country, but in dozens of nations all over the world; or as she says, "wherever there is a Filipino, I'm there."
Giselle overcame humble beginnings to become the successful woman she is today. "I wasn't rich, I was poor," she says. Born in Manila as the eldest of four, Giselle, by her own estimations, didn't exactly have a comfortable life in comparison to her well-endowed peers. As a recent television biography noted, although she attended the private Poveda Learning Center, she was there on a scholarship, and earned extra money selling snacks classroom-to-classroom. Ever since she could remember, she always wanted to enter show business. "Since I was three years old, I'd watch those old black-and-white TV shows on Channel 9. I would copy those shows. My mom would get really worried, [and say] 'What's wrong with you?' 'Ma it's okay, I'm just acting.'"
She attended University of the Philippines, majoring in Mass Communications, and becoming part of the college organization's (Samaskom) ultra-popular, annual musical-comedy-variety show, titled "Live A.I.D.S." (which has also spawned the likes of trans-gender comedian Ate Glow and funny starlet-singer Tuesday Vargas). To earn money for the production, Giselle and her classmates would enter TV contests. To Giselle, being on television was also a way, albeit unlikely, to get discovered. "I wore make-up; I was there, projecting, really acting." Surprisingly, her looks caught the attention of a talent manager (later to become her first manger), who offered her extra and walk-on parts in various television shows.
Not exactly the "big break" she was looking for, her second stroke of luck came during the performance of "Live A.I.D.S." itself, where the hostess-comedian Tessie Tomas, noticing her unhinged performance and playful personality, remarked, "This girl's good, let's get her." Giselle eventually got bigger and better roles, her first being "the trigger-happy counterpart of Anjo Yllana's mongoloid-retard" in the landmark sitcom Abangan Ang Susunod Na Kabanata .
From there, her opportunities became significantly better: A co-hosting stint on the now-defunct noontime show SST with Randy Santiago and Dennis Padilla; hosting It's a Date as Plinky Recto's replacement; the character Brosia on the comic-strip adaptation Pugad Baboy , as well as recurring parts in other television shows showcasing her pleasant looks, sharp wit, and natural charm. All of this, while she was still finishing college or, in her own words, "running for valedictorian in U.P., becoming magna cum laude , and showbiz – all at the same time. It was stressful. I wouldn't sleep, but it was very rewarding. I don't drink coffee, I don't smoke, or drugs. It was hard for me because there was nothing to perk me up except for my spirit. Just my spirit that I had to move on."
Giselle, as her career continued, not merely being content as a celebrity-showbiz mainstay, wanted to re-focus her artistic direction. Thus, she decided to go back to her own comedy roots, honing her innate talents, and performing live in front of audiences in concerts and corporate shows. Plus, the pay was significantly better as well. "It's still on the performing arts side," she explains. "And I actually wanted to become a comedian, like a Tessie Tomas, or [impressionist] Jon Santos. To become a comedienne, it's not just an off-shoot of something, you really have to work hard on your material, you really have to practice it, you have to write your own material, because if you have somebody write it for you, it might fall short, or it might not suit you perfectly. It's like buying your own clothes, you can't have someone else buy it for you." On choosing between acting and comedy: "Although I love acting, the comedy is very limited here. There's more chance of work when you make concerts abroad. The demand of my corporate hosting, and concerts abroad here, are more than the demands of acting, in my case."
With her appearances on GMA-7 and ABS-CBN, Filipinos abroad were familiar with her unique repertoire of a sexual allure and wicked comedy, and so demanded her. She's traveled all over the world to perform for them, including Australia, Japan, Indonesia, Malaysia, in Asia; London, Austria, West Germany in Europe, and Guam, Las Vegas, California, New York, Washington D.C. in the U.S. She considers traveling to be the best "perk" of her career. "I love doing that," she says. "I get to travel for free, and get treated with the red carpet treatment, without spending so much money. In fact, they have to pay me. It's also very interesting to see the different attitudes of the Filipinos abroad. Even if they say that they're Filipinos, hindi pa rin , they're different. Iba-iba, may nakakatuwa, may nakakainis, it's very interesting."
To Giselle, it's her daring, bold brand of humor she feels appeals to audiences worldwide. "It's the spontaneity that I have," she says. "Not everyone has the guts that I have, not everybody is as crazy and as kikay as me, and if they were, they wouldn't show it as me. Not everyone can be tactless or as frank or as uncanny as I am. That's Giselle Sanchez. My sense of humor ranges from crazy to naughty, sometimes out of line, sometimes risqué, but people like it. I love it. If I find my joke funny, everybody does. It's great to click with the audiences."
Under no exclusive contract, she jumps from one television station to another, making appearances or guest spots on different channels two-to-three times a week. Together with her corporate shows and concerts abroad, her schedule is very much hectic.
Though secure with a cozy lifestyle, Giselle has no immediate plans to fully settle down and relax. "If people still love me, they'll get me. But there are times that there are so many artists, that they're giving it to them. If there's no job for me, then I can go and take my vacation. But if there's work, I will have to work. Because I don't know until when this is going to happen in my life. I don't know when people are still gonna want me, or when my looks are gonna be like this, so we really don't have security of tenure. I'll keep charging while the red flag is there."