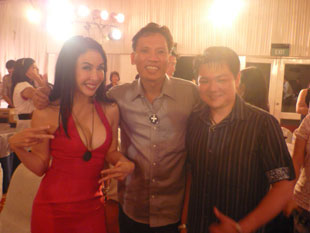 "I have never believed in any product such as this one. It really has a scientific basis.", says Giselle.  The quantum pendant apparently does the following for your body:  reduces pain and inflammation, strengthens resilience to the effects of stress, Improves blood circulation, Increases energy and stamina, Improves sleep, Enhances mental performance and alertness,Reduces symptoms of fatigue,Relieves symptoms of jet lag,Reduces motion sickness,Enhances immune and endocrine systems,Enhances cellular nutrition and detoxification,Helps to retard the aging process,Helps to fight cancer cells,
Prevents electro-magnetic waves from affecting one's health
0. Increases focus and concentration
0. Empowers meditation and prayer
0. Increases oxygen supply to blood cells
0. Has the ability to help destroy viruses and bacteria
0. Increases sexual performance
0. Promotes feelings of love, joy, peace and happiness
0. Neutralizes disharmonious or negative energies
0. Energizes food and water
0. Extends shelf life of fruits, vegetables and even flowers
0. Enhances the flavor of food, juice & wine
0. Beneficial for pets animals and plants
0. Suitable for adults and children of any age
What is the science behind the Quantum pendant?
Negative ions make us feel good, they destroy harmful bacteria. The positive ions make us feel bad (they come from radiation,mobile phones, TV/computer screens. television stations, microwave etc). If the positive ions occur naturally in sufficient numbers, ……it may cause depression, nausea, insomnia, irritability, lassitude, migraine, asthma attacks, and also affect the normal function of the thyroid glands. Biochemically speaking, the body becomes exhausted and this can lead to sickeness and cancer. These can be counteracted with the beneficial negative ions. Negative ions thrive in water and since the body is 90 percent water, we have a lot of it that makes us strong. But because if the contsant radiation from computers,televison and mobile phones we are exposed to everyday, we become weaker and exhausted in the middle of the day. The quantum pendant replaced all negative ion depletion  in our bodies because the volcanic rock used as a pendant contains  2500 negative ions that charges you all day and night and does not have an expiration date.